PVC clips: the anti-slip solution for safety grating, both on external floors and stairs
PVC clips reinforced with internal spring in harmonic retention steel. The clips can be inserted by simple manual pressure on the vertical support plate and they are not removable.
The superficial shape is hemispherical to avoid tripping, it is particularly resistant to trampling, to sudden changes in temperature, and to weather. It is resistant even to vehicles passage.
Immediate, long-lasting and economical anti-slip solution for walkway gratings coming out of shops, shopping malls, offices, schools, and they are interesting for prices and ease of installation and maintenance.
They are ideal to transform the safety grating walking surfaces into a total anti-slip passage.
For example you can optimize the safety at the entrances of supermarkets, apartment buildings, on mezzanines and on external and internal industrial staircases.
---
General characteristics of PVC clips for non-slip grid tops and metal ladders
The clip is designed to embrace the vertical plate, with a hemispherical surface to avoid tripping, 2 or 3 mm thick. The tread thickness is 2.5 mm and is made of non-slip PVC. The base width is 50 mm + - 2 mm. The clips are particularly resistant to trampling wear and temperature changes due to bad weather. PVC is self-cleaning and cannot be attacked by hydrocarbons, its duration is estimated at over 5 years, dictated by the nature and volume of the traffic it receives. They are easily integrated as needed. They are an ideal non-slip solution both in public and industrial environments, particularly suitable for internal and external grating stairs. They support light car traffic.
Please, before ordering a supply of anti-slip clips, make sure that the connection between the connecting rods is dimensional, if they are less than 60 mm long
Width size at the base 50 mm
It is advisable to insert the clips every 10/12 cm alternating
Contact us for more info or a quote!
---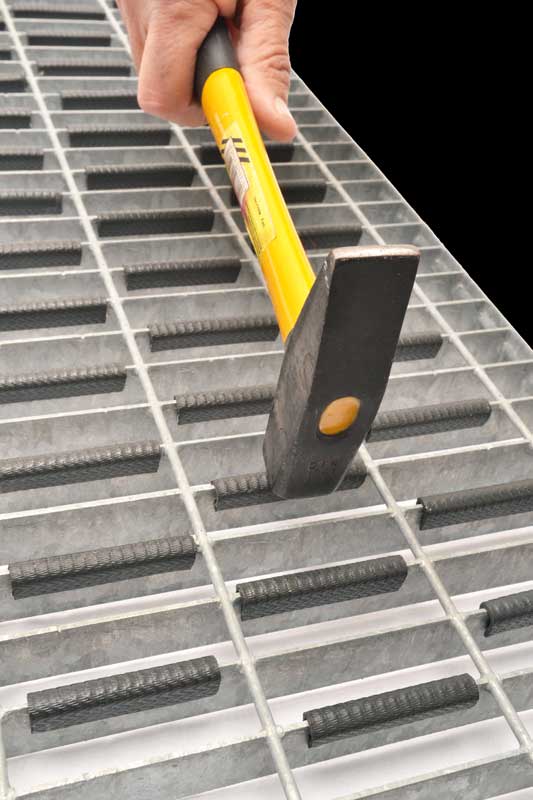 Easy and economical assembly of the anti-slip clips for grating surfaces and grating stairs
The assembly is very simple, it is sufficient to insert the clips manually by pressure on the bearing surface of 2 - 3 - 4 mm thick, and carry out the alignment with the hammer. Make sure that the distance between the connecting rods of the bearing plates is at least 60 mm, please inform us of any smaller widths.
No protective measures required, just simple work gloves. No need for adhesives, screws, bolts or maintenance. The duration of the clips is over 5 years, as for every floor product, the duration will be dictated by the nature and the volume of traffic that it will have to sustain.
The quantities to be inserted, linearly or randomly, depend on the grid positioning surface, they are fixed on the steps of the external grating stairs and on the walking surfaces according to the direction and the traffic.
The clips are in self-cleaning PVC, resistant to hydrocarbons, so they can also be used in car refueling stations. With shipping in Italy and European countries.
---
Economic anti-slip solution for gratings in snow and ice conditions
The simplest solution to make your grating steps or grating floors safer even in the presence of snow and ice, for example on grating floors and stairs near chair lifts and ski lifts in winter lifts.
The PVC clips are heat-resistant to temperature changes, easy to apply without renovating.
THE IDEAL SOLUTION TO MAKE ANTI-SLIP YOUR STAIRCASE OR YOUR GRILLED FLOOR IN THE MOST ECONOMICAL WAY
---
You may also be interested in ...
Look at our other non-slip products on the Italian website pages by clicking on the images. Contact us for more information ...
---
Our videos
On our YouTube channel you can watch videos in which we show the safety and practicality of applying the anti-slip and accident-prevention systems produced by Lo Scalino.
---
Contact Us!
You can send us a photo of your environment in which you want to install the non-slip product with WhatsApp on
+39 335 5436115
so we will be more precise in helping you choose it!
---